If you're looking for the best cars for dogs, the Land Rover Discovery Sport is certainly one of them. Striking the perfect balance between practicality and style, it's sure to impress just as much from the inside as it is from the outside. This is mostly thanks to its solid off-road capabilities, the latest driver aids and a stack of safety features. Read on to find out more about its awesome features. We've also previously covered the Audi Q8, Subaru Outback and Nissan Rogue, so check them out!
The Land Rover Discovery Sport may have slightly less curb appeal than the Evoque, but it more than makes up for this with its status as a genuine utility vehicle. It's little wonder then that its become one of the automaker's most successful models since going on sale in 2014.
Why the Land Rover Discovery Sport is one of the best cars for dogs: 
Taking your dog to the same location, be that around your neighborhood or to the dog park, can make walking them feel like a chore. The ability to travel with your pooch is invaluable when it comes to breaking that dog walking cycle, allowing you and your pets to be more adventurous. This is where Land Rover's off-road technology really comes into its own. The Terrain Response system readies the car for all conditions and allows it to wade up to half a meter. With this in mind, you can afford to be more daring on your dog adventures! Don't let muddy paw prints stop you, as the vehicle-specific Travall Liner is now shipping for the Discovery Sport. Simply remove the liner and hose it down to get rid of any fur or dirt.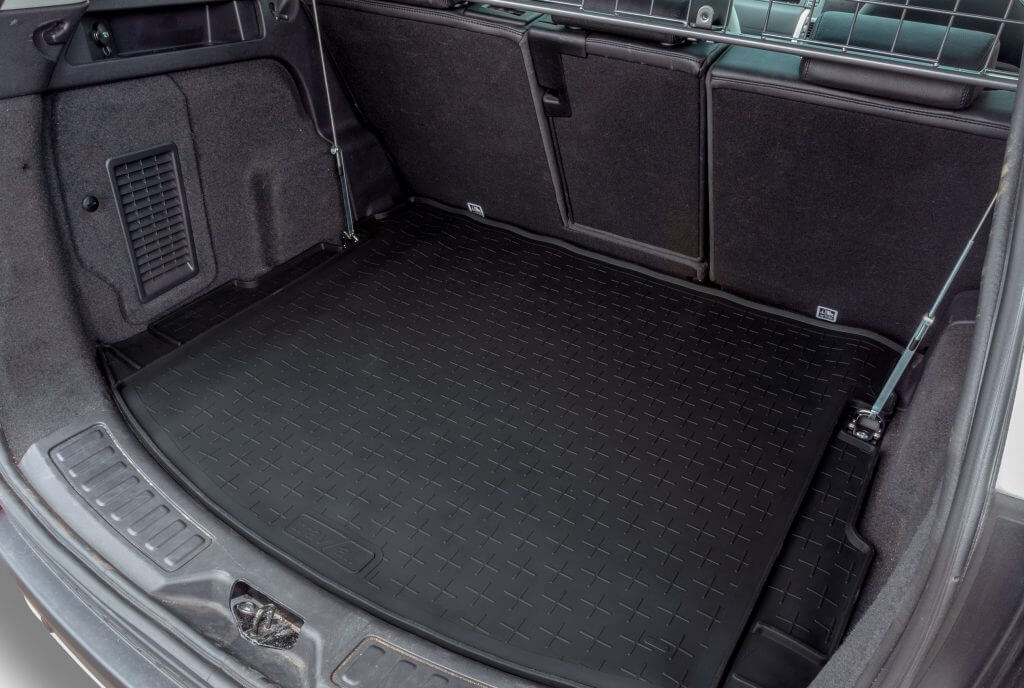 Round the back:
In the trunk you get 6.8 cubic feet of loading space when the seats are up. So no matter how big your dog, there should always be enough room. To take advantage of this space, you'll want to consider the Travall Guard. This premium steel guard sits behind the second row and makes it possible to stack items above the rear deck. The guard will also keep your pets securely in the trunk, preventing them from climbing into the cabin. If you want to take things a step further, you can also add a Travall Divider to create two separate areas. This is a great idea if you'll be transporting two dogs or are worried about other items harming your dog as you hit the bends. Like all Travall accessories, the guard and divider are designed specifically for this vehicle so you can be assured of a perfect fit.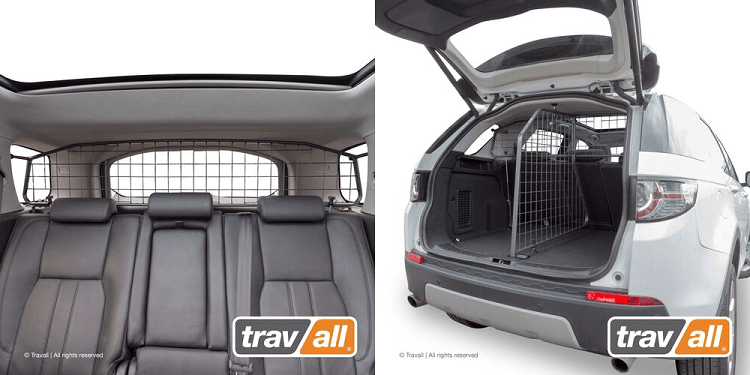 Getting in and out of the trunk is a breeze for most dogs too, due to the low loading lip. There's also an automatic tailgate for hands-free opening and closing, so no matter how muddy it gets, your hands will stay clean.
Safety Features:
When travelling with dogs, safety should always be a priority. Thankfully, the Discovery Sport is full of safety features, such as an autonomous emergency braking system, dynamic stability control and roll stability control. All of this tech is sure to keep your family and pets safe as you enjoy the journey.