Welcome to the second entry in our series looking at the best cars for dogs currently for sale in the US (and one we wish was for sale, but more on that later). We're turning our attention to the Nissan Rogue, which has a number of features that make it a great option.
The Rogue was launched in the US back in 2007 and has since made a name for itself as a very accomplished compact SUV. It's become Nissan's best-seller in North America. The second generation Rogue was released in 2014 and received a facelift in 2017 to bring us to the Rogue that's available today. 
Why the Nissan Rogue is one of the best cars for dogs: 
The main attraction for many dog owners is the Rogue's so-called Active Ride Control. For a better ride, Nissan's clever system uses the engine and brakes to automatically counteract road bumps. This is certainly something you'll be thankful for if you opt for the 19-inch alloy wheels. From a dog owner's point of view, a smooth ride is exactly what you're looking for. This is especially true if your pet isn't a confident traveller.
Turning our attention to the rear, the trunk is 39.3 cubic feet and gigantic 70 cubic feet with the second row of seats folded down. That's more than enough space for your canine friends to rest their heads. They've also got plenty of room to move about if they need to. However, if you're concerned about them having too much freedom, the Travall Guard is a great accessory. It will stop them from getting into the passenger area and offer you more space in the back. In addition to its large capacity trunk, the Rogue comes with a hands-free electronic tailgate as standard. Just swipe your foot under the center of the rear bumper and the trunk will open itself, leaving you with two free hands to deal with a pair of excited dogs!
Finally, the Nissan comes well-equipped with technology designed to avoid crashes and improve safety. These include automatic emergency braking, a lane departure warning system and pedestrian detection. As a result, you can rest assured of your family and pets' safety on the road.
Great accessories for one of the best cars for dogs:
Travall has a wide range of accessories designed specifically for the Rogue, guaranteed to help you enjoy the journey. All the Travall accessories are vehicle-specific, add an extra layer of protection, and assure exceptional quality.
The Travall Guard provides a barrier between the trunk and the rest of the vehicle, while complementing its interior with a subtle grey, bite-resistant powder finish. Furthermore, because it's vehicle-specific you don't need to worry about making any modifications to your car. Teamed seamlessly with the guard, a Travall Divider offers excellent trunk organization, allowing you to separate two dogs into two distinct areas. Now you don't need to worry about keeping them away from your groceries!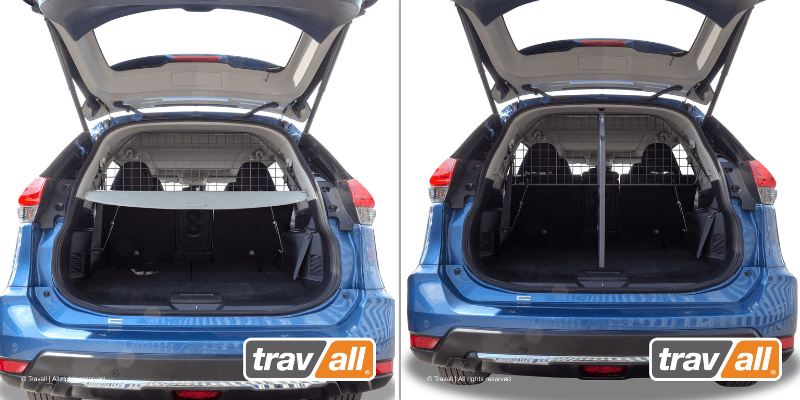 Additionally, the Travall Protector and Travall Liner provide essential dog-proofing for the Rogue. Protect the rear bumper from scratches as your dog gets in and out with the Travall Protector and keep that paintwork fresh. Meanwhile the liner will make cleaning the trunk a snap, as it can easily be removed and hosed down after a trip to the dog park.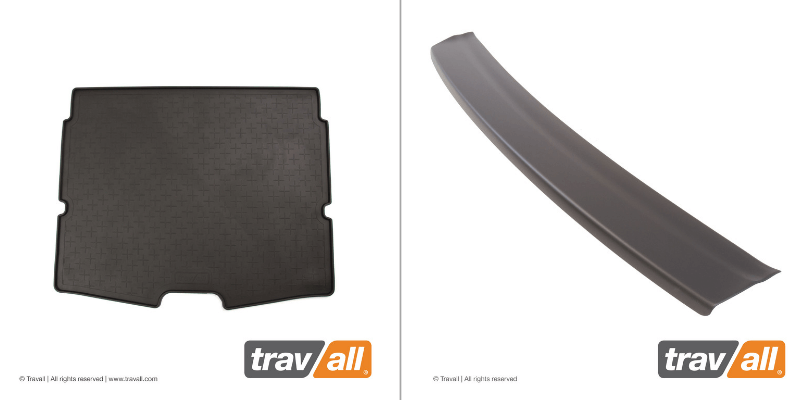 Nissan X-Trail 4Dogs:
The Japanese auto-maker sure knows the Rogue is one of the best cars for dogs, so has come up with a seriously cool concept car for the European market – the Nissan X-Trail 4Dogs.
Nissan has gone so far as to install a sliding ramp up to the rear of the vehicle so your dog doesn't have to strain itself with a jump after a long walk. Another one of its most notable features is the pull out 360-degree shower and dryer. This allows you to wash away all of the dirt before they get on board. And, if your dog hates the feeling of being wet, you can dry his fur right there. Lastly, we're smitten with the dog cam feeding into the car's infotainment system. You'll see exactly what your dog is getting up to while you're sat in the driving seat. 
We've not covered everything, but below is Nissan's video showing off all of its awesome features. All of which undoubtedly leave it at the top of any list of the best cars for dogs, we just wish it wasn't a concept!