Regular readers of The Travall Life will know that Travall started out as a small mom-and-pop business in the heart of England and over the last 10 years has grown into an international vehicle-specific accessories company.   It's a multi-faceted business and employs associates with a whole variety of talents, skill sets, and interests.  Travall's marketing and design department is no exception and our latest photo shoot was a true highlight in the Travall calendar, achieving a range of compelling images while developing camaraderie in the team.
Our outdoor lifestyle photo shoot took place over two days in a stunningly beautiful rural location about 5 miles to the south of the Travall offices in Derby, England.  The aim was to produce a library of images showing how Travall's range of products are used in daily life.  Featuring the Travall Guard, Travall Divider, Travall Liner, Travall Mats, and Travall Protector in the photos, we were highlighting the versatility of these products for families and/or dog owners in day-to-day use or when engaging in specific activities such as hiking, golfing, traveling, or gardening.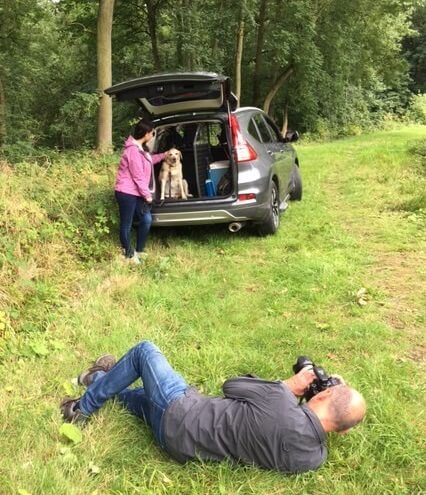 The actor W C Fields was famously quoted as saying,"Never work with animals or children," but during this photo shoot, the inclusion of dogs and kids made for a fun, entertaining, and memorable couple of days.  Britta Wood, Travall's Marketing Manager said, "We had five models, four dogs, and a great photographer.  Coordinating babies and puppies took a bit of time, but we ended up with some excellent pictures." Senior Graphic Designer, Jonathan Lamb added, "Working with the photographer, who really tackled the challenge of showcasing our products, was a real pleasure. And, let's face it, any job is more fun when you get to play with a puppy for a few hours!"
The photographs will feature in a range of upcoming advertising campaigns across a whole variety of different platforms.  Watch this space (and other areas online) for some beautiful shots and images that are guaranteed to melt your heart.