Are you itchin' for some sunshine? Winter has been long and cold this year, which only means it must let up soon, making right now the perfect time to plan your spring break trip. And let's face it, any vacation is made better when you get to bring your furry friend along… but it can be stressful to figure out dog-friendly places to stay, dog-friendly activities, and even dog-friendly restaurants!
Fear no more, we've done all the research for you and have got all the tips you need to plan a spring vacation that the whole family will enjoy. First things first, where should you go? We recommend packing up and heading to one of these dog-friendly destinations.
Del Mar, California
Dogs playing in the water at dog friendly beach in Del Mar, California
San Diego may get all the attention when it comes to southern California, but us dog lovers would benefit from heading just North of the big city to the sleepy beach community of Del Mar, where life is a little more laid back. They've got plenty of off-leash beaches for you and your dog to explore, plus learn how to stand-up paddle boarding and surf with your canine companion with lessons! Find out more here – Dog-Friendly Beaches
Austin, Texas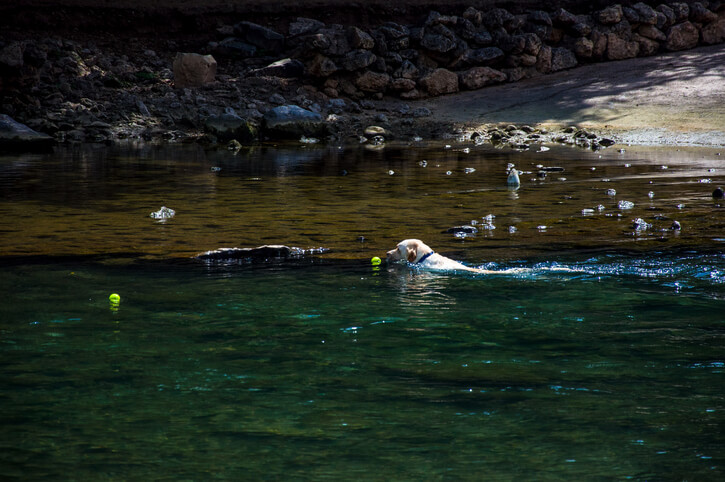 Down south in Austin they really know how to run a dog-friendly city. Nearly every restaurant you go to is going to have a patio, and most certainly water bowls for your dog to escape from the Texas sun. Spend the day with your pup, paddle boarding Lady Bird Lake, hiking the 10-mile Ann and Roy Butler Hike and Bike Trail around the city, and explore the Barton Springs Creek Greenbelt. Sunbathe in Zilker Park with the city skyline right in front of you, then hit 6th street for the most amazing street food and live music. Austin truly has it all – culture, great food, outdoor activities, and to top it all off…. AUSTINERS LOVE DOGS.
Telluride, Colorado
Located in the San Juan Mountains in the Uncompahgre National Forest, Telluride is well known for being dog-friendly. This quaint town has a main street that runs down the center of the city. Most shops are dog-friendly, and if they are not, there is ample puppy parking for your dog to wait while you go inside! Head down to the Town Park for a nice stroll or let your dog splash in the cool waters of the San Miguel River when you walk down the Riverwalk. Best of all, jump in the free gondola (yes, dogs can come too!) and soak up the sweeping views as you climb over the ridge to Mountain Village. We recommend exploring this little village, then heading up even higher in the gondola and finding a nice hike down. More tips here.
Finger Lakes, New York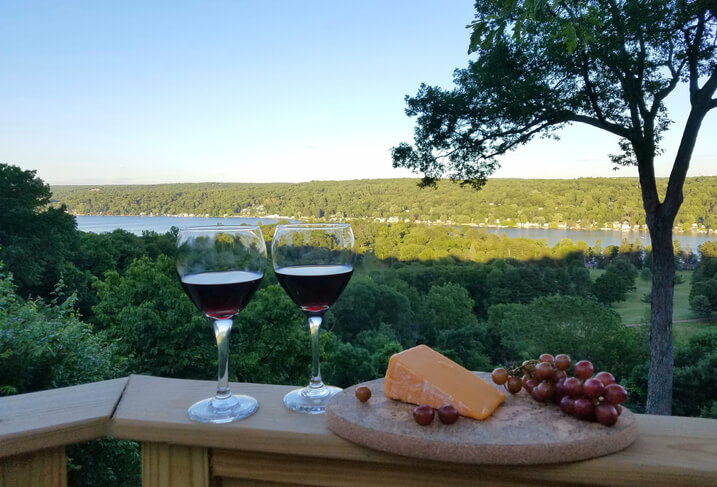 Nestled in Northern Central New York are 11 long, narrow lakes, surrounded by forested hills, open farmland, and quaint small towns all for you and your dogs to explore. There are plenty of activities to keep you and your four-legged friend busy – from fruit picking, boating, hiking, exploring over 2,000 acres of state parks or stopping at several different dog-friendly wineries and breweries. Got a dog that loves to swim? Make sure you check out Sampson State Park as all of their waters are dog-friendly!
Madeline Island, Wisconsin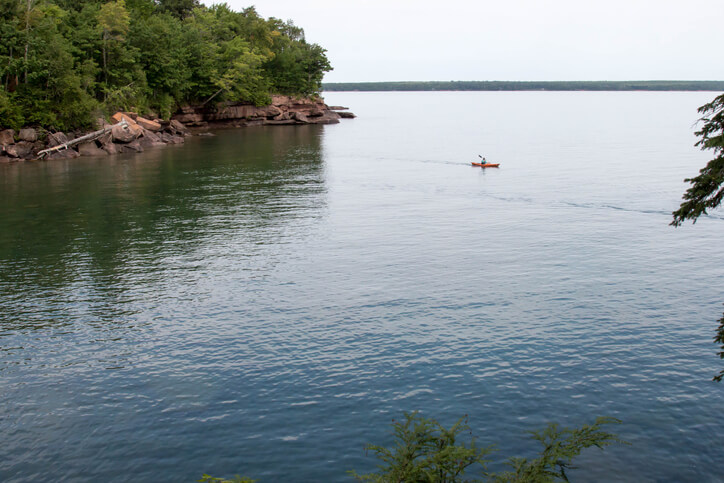 Head up North to Madeline Island, Wisconsin, one of the Apostle Islands in Lake Superior. Home to dog-friendly Big Bay State Park and Big Bay Beach, you and the pup can head out on a boat tour to see Lake Superior's majestic sea caves and lighthouses. Play fetch on the shores and enjoy a nice hike through the state parks. This historically rich island has plenty to offer from natural beauty, as well as good eats with dog-friendly patios.
Key West, Florida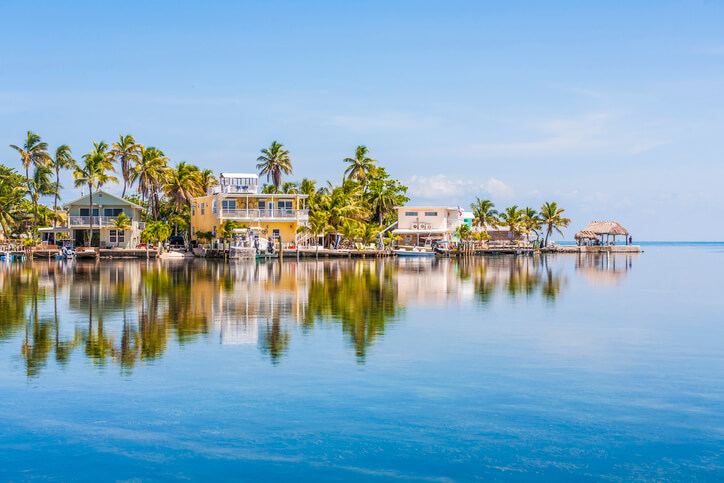 If you're looking for more of a traditional laid back, beachy spring vacation that you can enjoy with your dog, head to Key West! This pet-friendly island has several off-leash beaches, dog parks, dog-friendly restaurants and bars all for you and Fido to explore.
Outer Banks, North Carolina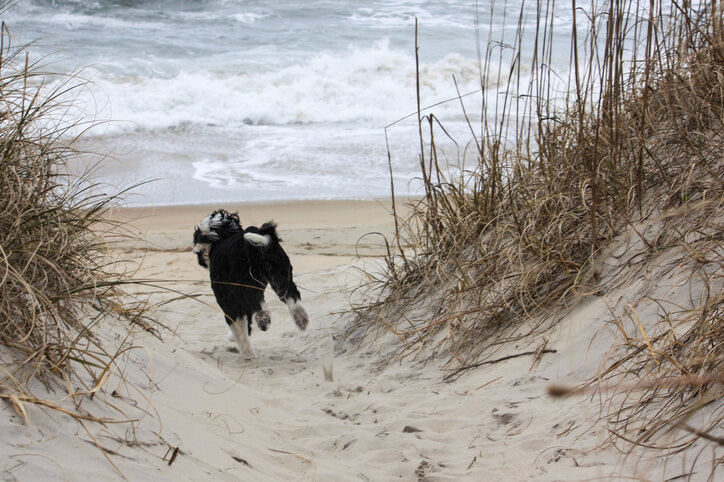 This 130 mile stretch of barrier islands off the coast of North Carolina has been featured in our blog before, and for good reason! While the Outer Banks are mostly known for the history they hold, they also feature mostly dog-friendly beaches all year long. For the history buffs, visit where Orville and Wilbur Wright took their famous first flight, where the pirate Blackbeard fought his last battle, or develop your own hypothesis to where the mysterious Lost Colony disappeared – all with your dog!
Then indulge in many of the outdoors activities these magnificent islands have to offer, including fishing, hiking and lounging on the beach with your furry friend. Temperatures average around the mid sixty's during springtime.
Smoky Mountains, Bryson, North Carolina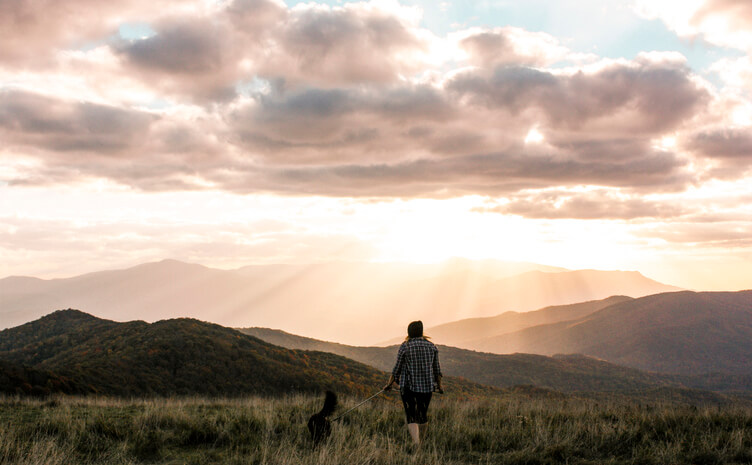 If you're wanting a mountain break so you and your furry friend can explore countless trails by day, before relaxing by the fire at night, the Smoky Mountains are a great destination. If you don't want to tent camp, Hidden Creek Cabins has over fifty dog-friendly mountain cabins that don't have a dog size limit. Dog-friendly activities include paddle boarding on the Tuckasegee River, Pontooning on Fontana Lake, and fishing at Island Park. Find more dog-friendly activities and restaurants here – Bryson Dog-Friendly Guide
Now you're probably wondering where you're going to stay at one of these magnificent doggy getaways. Check out Bring Fido for dog-friendly hotels and restaurants all over. If nothing suits you on there, you can most likely find dog-friendly AirBnB's at any of these destinations.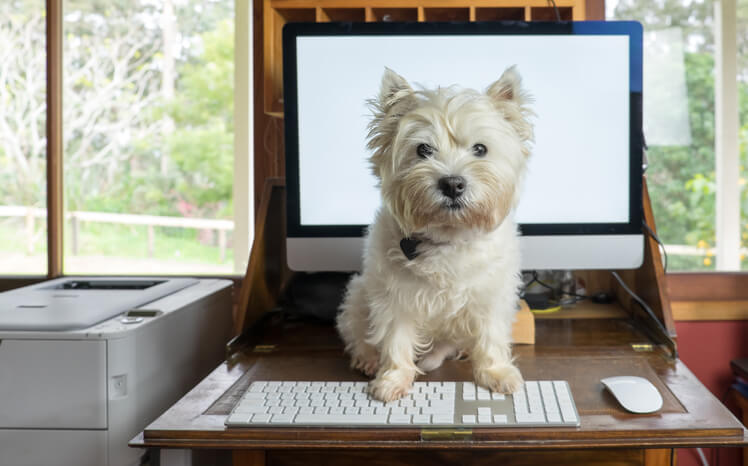 So, what are you waiting for? Start planning your dog-friendly vacation so you'll have something to look forward to while you're shivering violently whilst walking the dog these last few weeks!
PS- if you're road-tripping, make sure you've got the best travel set-up for your dog before you hit the road and don't forget your travel essentials!
Poo Bags
Leash
Food and Water bowls
Dog Bed
Doggy treats
Dog food
Travall Set Up
@acd_see and their Travall set-up

@FindMeWithTheDogs and their Travall set-up