It's the most wonderful time of the year! But it can also be the most difficult time to come up with gift ideas that are both thoughtful and different from every other year. This Holiday season, we're making it easy for you if you are shopping for the dog lover in your life. We've put together some ideas for Holiday gift essentials that you may not have considered previously, but could really make someone's Holiday and the New Year special too.
Help them transport a dog more easily
If the dog lover in your life regularly takes their dog on outdoor adventures they'll want a way to transport their pup securely. A great option for many drivers would be the Travall Guard and Divider. This neat duo of products gives one or two dogs a comfortable position at the rear of the vehicle. Both products are vehicle specific so you know you are getting a precision fit insuring that there will be no annoying rattles to disturb your dog from napping on the journey. They are not only Holiday gift essentials, but  year-round essentials too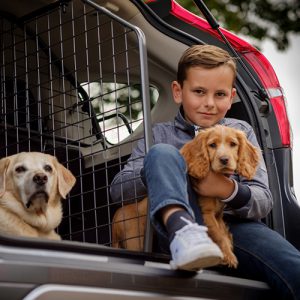 Help them capture a precious moment
Time spent with our pets is so special. As Agnes Sligh Turnbull once said, "Dogs' lives are too short. Their only fault really."  With this in mind, why not capture time spent adventuring with a senior dog with a pet photo shoot day.  There are plenty of photographers across the nation who are keen to offer this service. Find details on photographers specializing in dogs in your area in this helpful online directory.
Help them to get fit and active
With the focus of 2020 turning to health and wellness more than ever before, why not provide a dog lover with a Canicross starter kit?  It's a great way to ease a pet and their owner into running together in an activity that strengthens the bond between both and boosts wellbeing at the same time.
Help them to get away from it all
If being in lockdown in 2020 has given your dog lover a touch of cabin fever, a weekend stay at a dog-friendly hotel may be just the answer. With the potential of travel resuming more normally as 2021 progresses, why not book a weekend stay somewhere in the US that you've never visited before?